Views in last 3 days -
54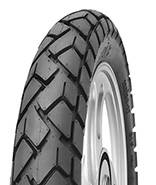 Size

: 120/80 R19
Type

: Tubeless
Contact Dealers
Check which tyre fits your vehicle
Locate Tyre Dealers in your area
Search by Popular Tyre Brands
Ask our Tyre expert


anil joseph
via Google
I have a Harley superlow 2012 model with a original rear tyre size of 150/60/17 Wud like to replace it with 150/70/17..Would it fit
Hi Anil,
There will be problems because of the increase in overall diameter as you go for a taller side profile. The SuperLow already has very limited suspension travel. The tyre will brush up against the mud guard when compressed, unless you rework the shockers at the back.
Recommendation: Stick with the same size. To improve comfort, see if you can install gel pads on the seats. It won't be cheap but comfort levels will go up.
--Mahesh


Naveen Sharma
I am having dezire diesel engine car from Suzuki company and in 35000 km my Bridgestone tyres are need to replace because of wear and tear. Kindly gui
de me why this is happening
Read More
Hi Naveen,
Generally tyres lasts for about 40,000-50,000 km. However this figure is just an estimated figure. Tyre wear depends on number of factors like your driving style, general maintenance like alignment/balancing and checking tyre pressures regularly.
Regards
Thank you for sharing your query , Our expert will reply to your query over the email.
Find A Tyre Dealer In Your City
Search Tyres For Your Vehicle
Check which tyre fits your vehicle
Locate Tyre Dealers in your area